This year is the hundredth anniversary of the erection of a monument on Forestier Peninsula in 1923 by the RST. The monument commemorates the landing of the Abel Tasman Expedition in Tasmania on 3 December 1642.
The Tasmanian Historical Research Association (THRA) is organizing an excursion to the monument and has offered 15 places to RST members.
Date: Sunday 3 December 2023.
Itinerary: Participants make their way to "Bangor" independently. The excursion will start at the Bangor Shed, just south of Dunalley, at 10am. After morning tea and a brief introduction, we will take a bus through "Bangor" to the start of the track, arriving there at 11.30am. A hilly walk of around 15-20 minutes will take us to Tasman Bay and the Tasman Monument where participants can have lunch (BYO). For the more energetic, there will be an option for a 45-60 minute return walk to North Bay where Tasman and later Marion du Fresne (in 1772) anchored their vessels. Participants will return to the bus by 2pm and then to their cars at the Bangor Shed at around 3pm. The Shed offers wine-tastings for those who would like to indulge! THRA member Tom Dunbabin farmed "Bangor" for many years and will provide commentary during the tour.
Cost: $30 per person, includes morning tea and bus transport between the Bangor Shed and the start of the walk to the monument.
To secure a place on this excursion, please send a short message before 30 September to admin@rst.org.au with the subject line "Tasman Monument excursion". Payment will be due 1 November 2023.
---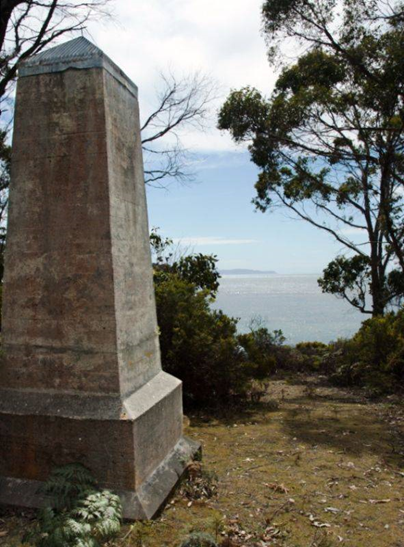 ---
Below is a photo of the plaque on Tasman Monument at Bangor. Click on the image for an enlarged view.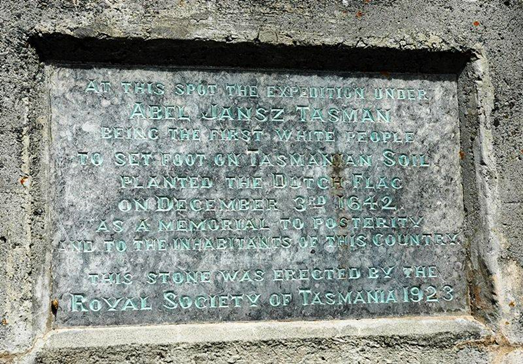 "At this spot the Expedition under Abel Jansz Tasman being the first white people to set foot on Tasmanian soil planted the Dutch flag on December 3rd 1642 as a memorial to posterity and to the inhabitants of the country. This stone was erected by the Royal Society of Tasmania 1923."

Transcription from plaque.