Council
President - Distinguished Prof Ross Large AO
Vice President - Mary Koolhof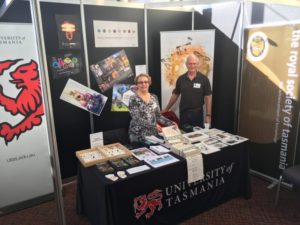 Mary Koolhof has had wide experience as a teacher in Tasmanian schools including stints as Senior Education Officer and Senior Curriculum Officer for the Department of Education. Mary was an inaugural awardee of a Commonwealth Endeavour Language Teacher Fellowship and a recipient of several Goethe-Institut scholarships to study in Germany. She has a passion for teaching and was awarded a Rotary Salamanca Vocational Award for Excellence for her work with refugee students. Mary currently works for the Office of Tasmanian Assessment, Standards and Certification in a number of part-time roles. She is the commissioned author of seven children's books published by the Salvation Army for the Safe From the Start and Communities for Children initiatives. The books tackle current issues facing young people, such as cyberbullying and cyberstalking. Mary enjoys her voluntary work on the Tasmanian Social Sciences Human Research Ethics Committee.
Immediate Past President - Prof Matt King
Honorary Secretary - David Wilson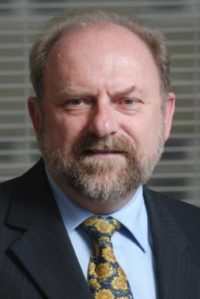 I have been a member of the Royal Society since 2014 and my career has been in applied science.
I graduated from the University of Tasmania in 1978 BSc Honours with a major in geology and geophysics. I started my professional career as Geophysicist for Hydro Tasmania later that year, undertaking geophysical and geological investigations in remote parts of Tasmania for the next 12 years. In 1992 I undertook additional studies in surface water hydrology at the University of New South Wales and worked in the field of hydrology, eventually as The of Manager of Hydrology and then Business Development Manager with Entura – Hydro Tasmania Consulting. Much of this work was based overseas working on hydro power and water projects, for the most part, in developing Asian countries. In 2010 my work returned more to geological assignments, spending a year living in Papua New Guinea and then as an independent consultant in Sarawak, Borneo. I am now semi retired with interests in philosophy, bee keeping and photography.
Honorary Treasurer - Peter Meyer
Peter has a business and corporate career spanning over 40 years.
He was Managing Director and Chief Executive of several US corporate organisations in countries throughout the Middle East, Africa and the Indian Sub-continent and represented the parent company on the boards of subsidiaries.
He spent a further four years at the company's world headquarters in the USA. From 1984, he worked in Sydney with another global corporation where he became the director of a business unit for the South Pacific Region and a member of the management committee.
Since 1993, Peter has contributed his extensive international experience and knowledge to companies in commercialisation and capital raising, in sourcing joint venture partners and facilitating acquisitions, but he particularly enjoyed assisting start-ups. Peter, who grew up in Switzerland, holds a precision engineering degree and has studied at further learning institutions including INSEAD, Brown, Macquarie and Sydney.
He is a Fellow of the Australian Institute of Company Directors, a Member of the New York Academy of Sciences and supports the MIT Open Courseware efforts.
Early Career Researcher - Dr Taryn Noble
Student Councillor - Austen Hawkins
Austen hails from Melbourne, where he was involved with the Royal Society of Victoria as a high school student. While in Melbourne, he was involved in coordinating roles in different aquatic leisure centres. He moved to Hobart in 2015 to commence University while pursuing his love of wilderness activities and sailing. Last year Austen was an elected to the Tasmanian University Student Union and enjoyed seeing how the university was administered. Austen is now in 2nd year, completing a Bachelor of Science with a major in physical geography. Austen works part-time at Briota, the University and volunteers with the State Emergency Service Search and Rescue Team.
Councillor - Dr Robert Johnson
Dr. Robert Johnson researches and thinks about the microscopic life that lives in the sea – the phytoplankton. These are the microscopic plants responsible for almost half the photosynthesis and primary production on our planet; they produce oxygen and soak up carbon in every body of water on earth. Consider that the oxygen in every second breath we take comes from phytoplankton, and their vital importance to our everyday lives and the health of the planet then becomes apparent.
Rob is a senior environmental scientist with the Australian Government's Bureau of Meteorology where he uses and develops bio-geochemical satellite remote sensing algorithms for the monitoring of marine water quality, including algal blooms, around the Australian coastline. He completed his undergraduate degree in Zoology at the University of Tasmania, then a Masters degree working on photosynthesis in Southern Ocean phytoplankton – when he began developing a wide network of international collaborators and held a visiting fellowship at the University of Magallanes, Chile. He spend three years working for the Australian Antarctic Division as a Southern Ocean phytoplankton specialist responsible for running their phytoplankton analytical chemistry laboratory, and undertook three Antarctic expeditions during this time. This work led to him completing a PhD in biological oceanography combining his expert knowledge of in-situ observations and computational modelling to reveal that NASA's mathematical models were significantly unreliable in the Southern Ocean and to develop new, more accurate, bio-geochemical satellite remote sensing models that are now used by several international research institutes.
Rob has been a visiting scientist at the Alfred Wegener Institute of Polar and Marine Research in Germany; an inaugural ocean colour Fellow with the International Ocean Colour Coordinating Group in France; an Australian representative on the Scientific Committee on Antarctic Research; the editor of the biological component of a review of Southern Ocean remote sensing commissioned by the World Meteorological Organisation and Southern Ocean Observing System; and is currently the phytoplankton and remote sensing expert advisor to the Great Barrier Reef 2050 Integrated Monitoring and Reporting Program.
The mission of the Royal Society of Tasmania aligns with Rob's personal interests in advancing and communicating scientific knowledge beyond the traditional boundaries. He aims to contribute by providing diligent service, harnessing his international network of collaborators and scholars to contribute to the advancement of knowledge in Tasmania and beyond, with a particular focus on quality science communication. He is strongly committed to giving back to the community that supported him during his education and training by aligning himself with an agency that has a strong reputation and impact on the community.
Councillor - Dr John Thorne AM
John was born in Launceston and after training as a teacher at the University of Tasmania was in 1959 teaching mainly mathematics and science at Brooks High School, Launceston. Requested by the Education department, John went to Melbourne and trained as a teacher of the deaf – returned to Hobart and became the Foundation Principal of the Tasmanian School for the Hearing Impaired (know as Lady Rowallan House) in 1961.
After appointments at several schools John gained a scholarship to study in the USA – a Masters degree in Management and Supervision … but studied with a class that included several mature profoundly deaf students. On return again to Tasmania John completed his PhD at the University of Tasmania with a focus on evaluation of informal adult learning especially with parents of severely disabled children.
John, with his wife Shirley participates in a number of voluntary activities including the Royal Society of Tasmania and for many years has served Rotary International as a senior leader throughout Australia and overseas. They have two married daughters, two great sons-in-law and five wonderful grandchildren.
Councillor - Dr Angela Ryan
Angela Ryan has a legal background. She specialized in intellectual property law for fifteen years in Australia, Asia and Europe. Based in Hong Kong during the time of the handover to China, Angela worked for an international law firm and spent time in the firm's regional offices, particularly in Beijing, as well as taking part in cooperative missions to Indonesia, Cambodia, Vietnam and North Korea. Angela was admitted as a solicitor to the Supreme Court of England and Wales in 1996, and the High Court of Hong Kong in 1997. Transferring to Europe, Angela joined a Brussels firm where she worked as a lawyer by virtue of the mutual recognition agreement. She was recognized as a European Trade Mark Attorney by the Office for Harmonization in the Internal Market (OHIM) in 1998. Angela later moved to Alicante in Spain, where the European Trade Mark and Designs Office is situated.
Upon return to Australia and inspired by her research into global intellectual property conventions, Angela attained a first class Honours degree in cultural anthropology from Deakin University. She did a number of stints in northern Australia – including as solicitor for Aboriginal legal aid in Katherine N.T., and an anthropology internship in Kununurra W.A., where she worked with an Aboriginal Corporation in the diamond fields.
Angela attained her PhD at the University of Tasmania. For her thesis, Angela retuned to her interest in the cultures of Asia, having spent her childhood in Thailand before her family moved to Tasmania. Focusing on the newly emerging contemporary Tibetan art movement, Angela's thesis delved into the questions of identity, heritage and place, and the artistic expressions thereof. She was able to revisit China, Tibet, Hong Kong, India, Nepal and Thailand for her field trips.
Angela's focus is now on local heritage. She joined the Council of the Royal Society of Tasmania in 2018.
Councillor - Dr Adele Wilson
Councillor - Dr Anita Hansen
Anita Hansen was educated at the University of Tasmania and the University of Newcastle where her studies have focused on natural history illustration.
Before returning to Tasmania in 2003 to complete a Masters and PhD, Anita worked interstate and overseas in scientific illustration, graphic design and project management, most recently with the Independent Commission Against Corruption (ICAC) as an Education Officer/Projects and Publications.
Councillor - Dr Greg Lehman
Greg Lehman graduated with a BSc in Zoology, Botany and Geography from the University of Tasmania in 1984. Dr Lehman followed this up with a GradDipEnvStuds(Hons First Class) in 1996 with his thesis exploring the relationships between Aboriginal identity, history and land. In 2012 Dr Lehman read history at the University of Oxford, completing a Master of Studies in the History of Art and Visual Cultures at Balliol College. Dr Lehman's PhD thesis, Regarding the Savages: visual representation of Tasmanian Aborigines in the 19th Century, was submitted at the University of Tasmania in 2016. Since this time, he has completed a number of applied research projects. The most recent of these include lead curation of the first permanent Indigenous gallery at the Queen Victoria Museum and Art Gallery.
TMAG Representative - Janet Carding
Janet Carding is the Director of Tasmanian Museum and Art Gallery.
Honorary Editor - Dr Margaret Davies OAM
Margaret Davies was educated at the University of Tasmania, the ANU and the University of Adelaide from where she retired in 2002 after an academic career at that institution of 30 years.
Her research focused on the taxonomy and systematics of the Australopapuan frog fauna with an interest in osteology. She has discovered and named 34 species of frog during that research career and has published 118 papers, books and edited works.
An Honorary Fellow of the Royal Society of South Australia, she served as Secretary, Editor (for 13 years), Vice-President, President and Minute Secretary before returning to Tasmania where she became Honorary Editor of the Royal Society of Tasmania, a position she claims is to keep the brain active.
Honorary Librarian - Juliet Beale
Chairman of The Royal Society of Tasmania Foundation - Prof Jim Reid