Council
President - Mary Koolhof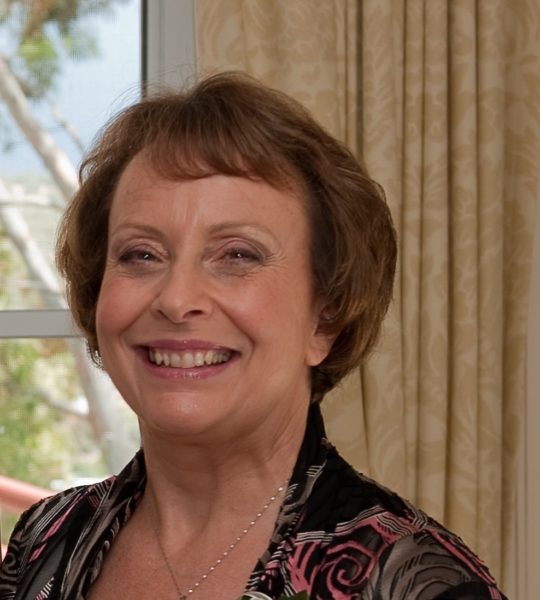 Mary Koolhof is strongly committed to the work of the Royal Society of Tasmania in advancing knowledge and has been an active member of the Society since 2007 in roles including Council member, publicity officer, active member of numerous committees and previous vice-president. A graduate of the University of Tasmania, Mary has had wide experience as a teacher in Tasmanian schools including stints as Senior Education Officer and Senior Curriculum Officer for the Department of Education. She was an inaugural awardee of a Commonwealth Endeavour Language Teacher Fellowship and a recipient of several Goethe-Institut scholarships to study in Germany. Mary was awarded a Rotary Vocational Award for Excellence for her work with refugee students. She recently finished a six-year term on the Tasmanian Social Sciences Human Research Ethics Committee. To support vulnerable Tasmanian children, Mary became involved in initiatives of the Salvation Army as the commissioned author of eight children's books published for the Safe From the Start and Communities for Children programs. The books tackle current issues facing young people such as family violence, peer pressure, cyberbullying and cyberstalking. A ninth book, to support children exposed to the drug ice, is currently in press.
Vice President - Prof. Jocelyn McPhie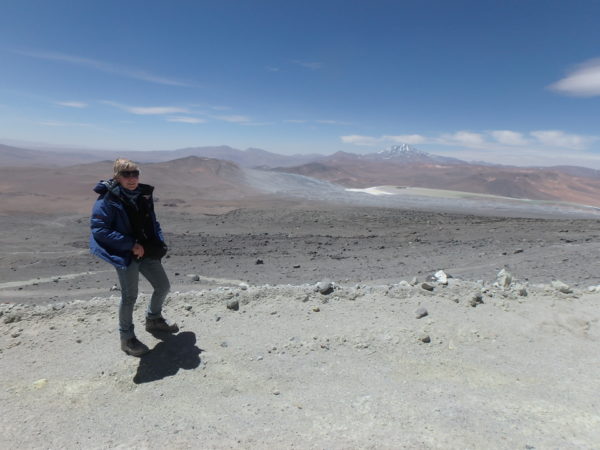 Jocelyn McPhie is a geologist and for most of her career (1990 to 2015), held an academy position at  the University of Tasmania. As an academic, she conducted fundamental and applied research in volcanology, and taught volcanology and as well as other undergraduate geology units. Since retiring from the university, she has been consulting to the minerals industry, providing technical advice and professional training in volcanology. She maintain an adjunct position with the University of Tasmania, continuing to supervise PhD students and to participate in research projects.
Immediate Past President - Distinguished Prof Ross Large AO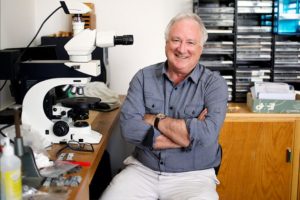 Honorary Secretary - Marley Large
Honorary Treasurer - David Wilson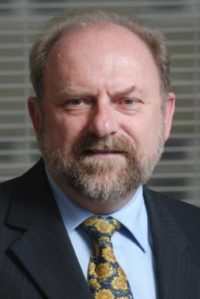 David has been a member of the Royal Society since 2014 and his career was in applied science.
David graduated from the University of Tasmania in 1978 BSc Honours with a major in geology and geophysics. He started his professional career as Geophysicist for Hydro Tasmania later that year, undertaking geophysical and geological investigations in remote parts of Tasmania for the next 12 years. In 1992 David undertook additional studies in surface water hydrology at the University of New South Wales and worked in the field of hydrology, eventually as the Manager of Hydrology and then Business Development Manager with Entura – Hydro Tasmania Consulting. Much of this work was based overseas working on hydro power and water projects, for the most part, in developing Asian countries. In 2010 David's work returned more to geological assignments, spending a year living in Papua New Guinea and then as an independent consultant in Sarawak, Borneo. He is now semi retired with interests in philosophy, bee keeping and photography.
President - Northern Chapter - Dr Frank Madill
The Honourable Dr Frank Madill AM M.B.B.S. (Melb), F.R.A.C.G.P. was born Francis Leslie Madill on September 5, 1941, in Victoria. Educated at Garfield Primary School, Drouin Central Classes and Warragul District High School, he graduated MBBS from Melbourne University in 1965. He and his wife Linda moved to Tasmania where he was Resident Medical Officer at the Launceston General Hospital 1966 – 1967. He commenced full-time General Practice in 1968, and during this period also managed his Romney Marsh sheep stud farm at Nunamara. Elected to the Tasmanian House of Assembly in 1986 he was a Cabinet Minister from 1992-96 and Speaker of the House from 1996-1998. Frank retired from the Parliament in 2000 and resumed part-time General Medical Practice in the Northern Suburbs of Launceston. He lectured in the School of Human Life Science at UTAS from 2004 – 2014 and was visiting lecturer at the Australian Maritime College and at the Medical School at the Sydney University during this period. He is the author of four books – If You Faint Fall Backwards, It All Comes Back to Sheep, Why Politics Doctor and Sanders DFC – Out of the Darkness. He is a life member of the Bell Bay Seafarers Mission, Mowbray Cricket Club, North Launceston Football Club, Saints Softball Club and the Royal Australian College of General Practitioners. He was a recipient of the Centenary Medal in 2003, the Serving Brother of St John in 2004 and was honoured with the award of Member of the Order of Australia in 2014 for services to Parliament, Medicine and the Community.
Immediate Past President - Northern Chapter - Mr David Morris
David Morris is an educator with wide experience in Tasmania in State schools, independent schools, in the TAFE sector and as a reference librarian in the State Library of Tasmania and the University of Tasmania.
David's distinguished contribution and expertise to teacher librarianship and library services in Tasmania and at the national level was recognised in 2013 when he was awarded the esteemed Doreen Hopkins Medal by the Australian School Library Association. He is the Tasmanian representative on the national School Libraries Advisory Committee for the Australian Library and Information Association. Davis was State Chairman of the industry Focus Group for TasTAFE's Library and Museum Studies courses. He is Vice-President of the Tasmanian Council of Churches and, until June 2013, was also Convener of the Tasmanian Council of Churches Commission for Christian Ministry in State Schools, which is co-responsible for the development and monitoring of Tasmanian Education Department guidelines for the conduct of chaplaincy in State schools and Christian religious education in State schools.
David currently sits on the Scholarship Committee of Worldview Centre for Intercultural Studies. He has a long-standing commitment to the promotion of knowledge in the community, and is currently Head of Library & Information Services at Scotch Oakburn College in Launceston.
Early Career Researcher - Dr Robert Johnson
Dr. Robert Johnson researches and thinks about the microscopic life that lives in the sea – the phytoplankton. These are the microscopic plants responsible for almost half the photosynthesis and primary production on our planet; they produce oxygen and soak up carbon in every body of water on earth. Consider that the oxygen in every second breath we take comes from phytoplankton, and their vital importance to our everyday lives and the health of the planet then becomes apparent.
Rob is a senior environmental scientist with the Australian Government's Bureau of Meteorology where he uses and develops bio-geochemical satellite remote sensing algorithms for the monitoring of marine water quality, including algal blooms, around the Australian coastline. He completed his undergraduate degree in Zoology at the University of Tasmania, then a Masters degree working on photosynthesis in Southern Ocean phytoplankton – when he began developing a wide network of international collaborators and held a visiting fellowship at the University of Magallanes, Chile. He spent three years working for the Australian Antarctic Division as a Southern Ocean phytoplankton specialist responsible for running their phytoplankton analytical chemistry laboratory, and undertook three Antarctic expeditions during this time. This work led to him completing a PhD in biological oceanography combining his expert knowledge of in-situ observations and computational modelling to reveal that NASA's mathematical models were significantly unreliable in the Southern Ocean and to develop new, more accurate, bio-geochemical satellite remote sensing models that are now used by several international research institutes.
Rob has been a visiting scientist at the Alfred Wegener Institute of Polar and Marine Research in Germany; an inaugural ocean colour Fellow with the International Ocean Colour Coordinating Group in France; an Australian representative on the Scientific Committee on Antarctic Research; the editor of the biological component of a review of Southern Ocean remote sensing commissioned by the World Meteorological Organisation and Southern Ocean Observing System; and is currently the phytoplankton and remote sensing expert advisor to the Great Barrier Reef 2050 Integrated Monitoring and Reporting Program.
The mission of the Royal Society of Tasmania aligns with Rob's personal interests in advancing and communicating scientific knowledge beyond the traditional boundaries. He aims to contribute by providing diligent service, harnessing his international network of collaborators and scholars to contribute to the advancement of knowledge in Tasmania and beyond, with a particular focus on quality science communication. He is strongly committed to giving back to the community that supported him during his education and training by aligning himself with an agency that has a strong reputation and impact on the community.
Councillor - Dr Adele Wilson
Councillor - Dr Greg Lehman
Greg Lehman graduated with a BSc in Zoology, Botany and Geography from the University of Tasmania in 1984. Dr Lehman followed this up with a GradDipEnvStuds(Hons First Class) in 1996 with his thesis exploring the relationships between Aboriginal identity, history and land. In 2012 Dr Lehman read history at the University of Oxford, completing a Master of Studies in the History of Art and Visual Cultures at Balliol College. Dr Lehman's PhD thesis, Regarding the Savages: visual representation of Tasmanian Aborigines in the 19th Century, was submitted at the University of Tasmania in 2016. Since this time, he has completed a number of applied research projects. The most recent of these include lead curation of the first permanent Indigenous gallery at the Queen Victoria Museum and Art Gallery.
Councillor - Roxanne Steenbergen
Roxanne has thirty-five years of experience in primary teaching across a range schools. For over fifteen of those years Roxanne taught gifted and talented students online through the Department of Education's Centre for Extended Learning (now the Gifted Online program). Through this program Roxanne engaged with students across Tasmania. In 2007, Roxanne and a colleague jointly won the 
Microsoft 2007 Innovative Teacher Award 
for their "Cool Chemistry" project. The project involved the creation of a virtual classroom connecting two schools, two teachers and a practising chemist. Within this environment, children used a range of software to share and compare their inquiries.
Roxanne also has a keen interest in literacy through childhood reading and believes every student should have books in their hands whenever they want one – whether they are classics like Journey to the Centre of the Earth or the more modern stories of the 13-storey treehouse series. She won the Scholastic Literacy Champion Award in 2013. Roxanne retired from teaching in June 2018, but retains a strong interest in making Science teaching accessible to everyone.
Councillor - Niamh Chapman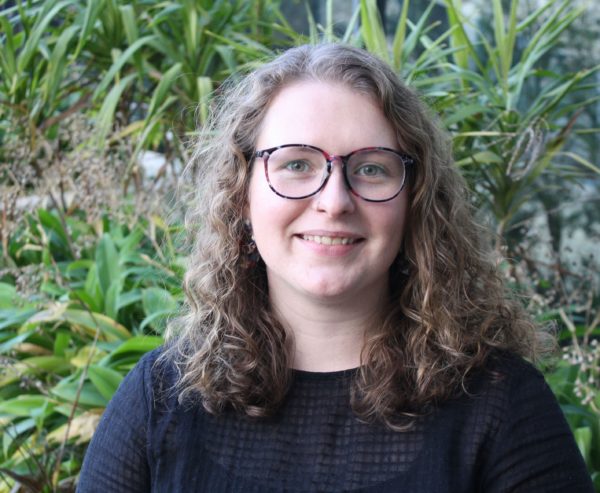 Niamh Chapman is a passionate medical researcher and science communicator. She is based at the Menzies Institute for Medical Research in the Blood Pressure Research Group. Niamh's research is focused on the role of health policy and digital technology for the prevention of cardiovascular disease.
Niamh is the Founding Director of radio show and podcast That's What I Call Science, which won the national award for Best New Program 2019 from the Community Broadcasting Association of Australia. That's What I Call Science is run by a team of women in STEM that aims to deliver accurate, accessible and engaging content on areas of public interest with expert guests from across the state of Tasmania. The podcast can be found on major streaming services or http://bit.ly/ThatsScienceTAS
Niamh is a member of the Australian Cardiovascular Alliance Emerging Leaders Committee, the Australian Society for Medical Research Tasmania state committee and the Tasmanian National Science Week Coordinating Committee.
Councillor - Peter Manchester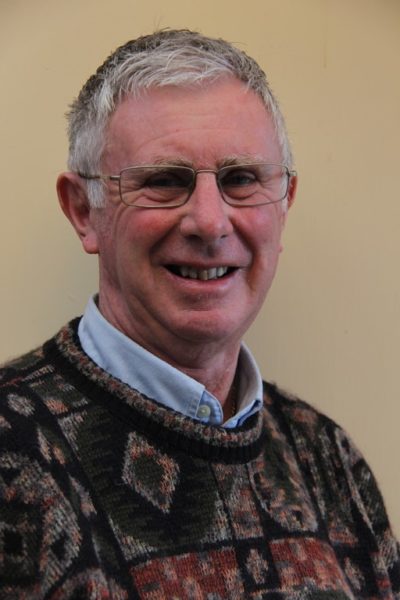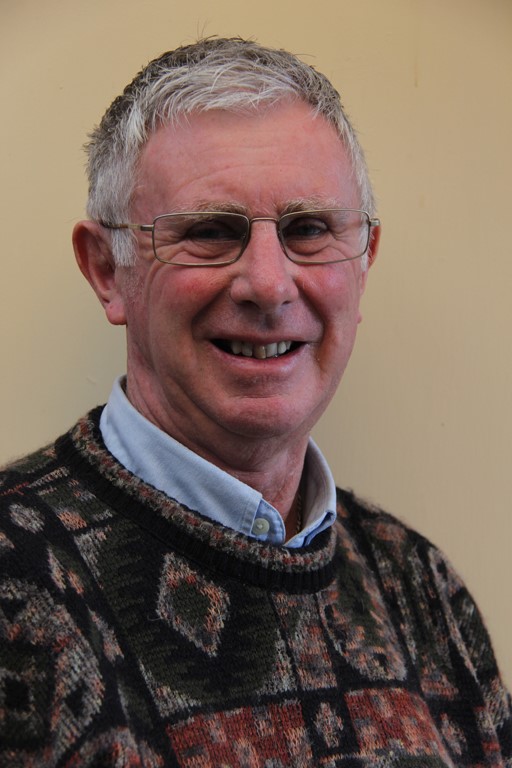 Peter S Manchester B.Sc. (Hons), B.Ed. TTC.. Photographic Honors (AFIAP, AAPS, FAPS , FTPF)
Peter is Launceston born, educated at the University of Tasmania in geology, geochemistry and education. Apart from a short period at the Mines Department, then in ocean mining, he served National Service in Vietnam and Papua New Guinea. On return he served 40 years lecturing at TAFE, University and Colleges in geology, chemistry, still and video photography, multimedia(former Head of a Department) and recently geotourism to Australian and overseas to clients of all levels of experience. He is an accredited International judge in digital imagery and has conducted seminars, field trips and weekend getaways on Tasmanian Geology, photography and astronomy throughout Tasmania and mainland Australia. He was Australian President of the Australian Photographic Society in 2002 – 2006.
In 2010 Peter self-published a book on Tasmanian geology Created from Chaos" – 100 geological sites in Tasmania which has been distributed Australia-wide (now out of print but in process of writing the updated edition). In June this year Peter was given the challenge to photograph, write and publish a book and poster on Tasmanian fossils .. taking over from the late Dr. Max Banks.  He is also producing a booklet on 30 Tasmanian Geotrails as a source of use for tourism.
Peter is a much sought after lecturer and educator in geology, geotourism,mineralogy and lecturers at places like U3A on various topics as scientific toys, inventions, meteorites and orchid growing. As an orchid grower he collects and presents at his place at Oakdowns.
Student Councillor - Shasta Henry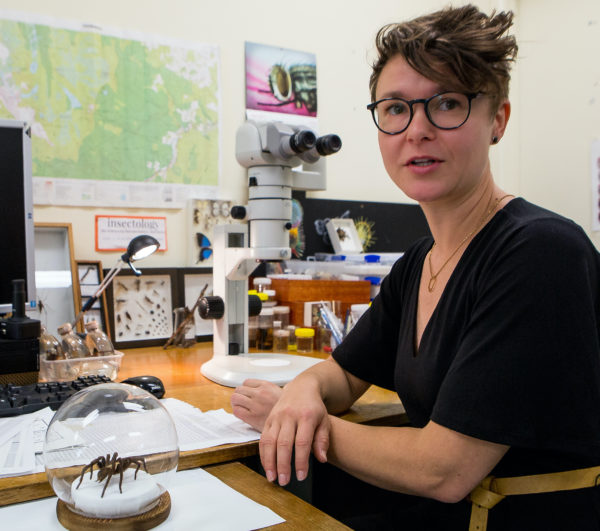 Shasta is completing her PhD in 2020, investigating the impact of wildfire on Tasmania's smallest alpine residents, invertebrates. She is a passionate Entomologist and educator, having transitioned to science and science communication from eco-tourism in 2009. During her time at Utas Shasta has completed a Bachelor of Science and Honours in zoology/entomology, worked as a tutor for Riawunnah and junior lecturer in the Geography department, volunteered as a Young Tassie Scientist and completed an internship at the Smithsonian Natural History Museum in Washington DC, "that's how I got a species of beetle named after me." She also maintains a public presence as the Bug Girl (https://www.facebook.com/TasBugGirl/) via ABC Radio, The Gourmet Farmer and Libraries Tasmania to name a few. Interpreting insects for the Tasmanian public Shasta often talks about insects as food, introduced pests, native pollinators, ecological adaptation and how to identify insects for kids. From her days working as a white water rafting guide and rock climbing instructor Shasta still loves to travel and explore nature, "but collecting insects is much easier on the knees."
TMAG Representative - Janet Carding
Janet Carding is the Director of Tasmanian Museum and Art Gallery.
Honorary Editor - Dr Sally Bryant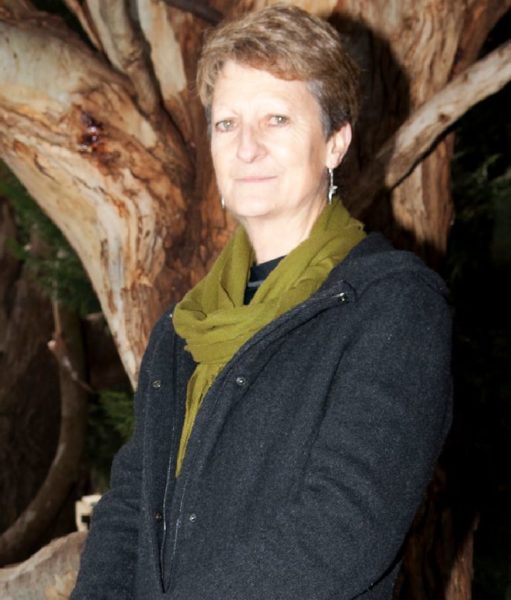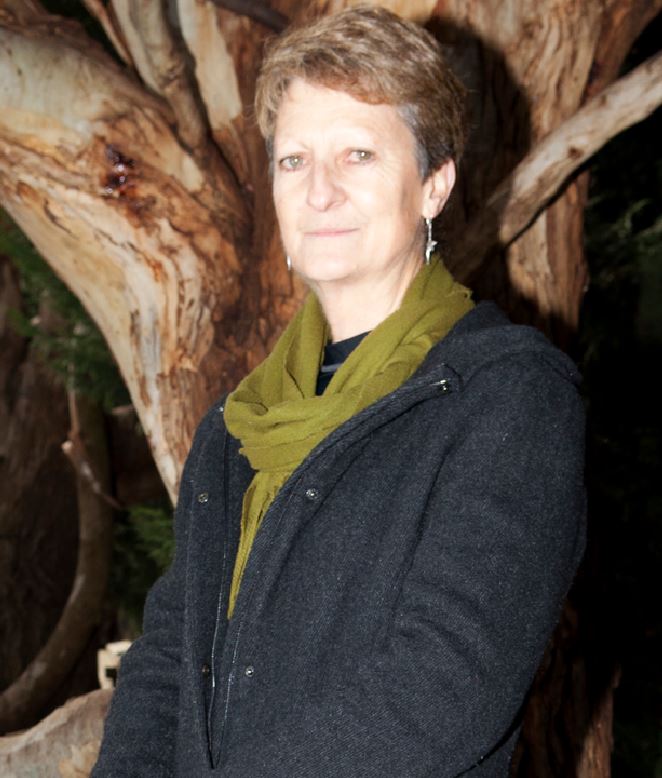 After graduating from UTAS, Dr Sally Bryant worked as a wildlife scientist for over 30 years initially with the Tasmanian Government managing threatened species programs then as Science Manager with the Tasmanian Land Conservancy. Sally's work spans theoretical to applied conservation science specialising in threatened bird recovery and ecological monitoring.
Sally has authored and co-authored numerous books, chapters, journal papers, technical reports and popular articles on conservation issues including for the Royal Society. She is an Adjunct Lecturer at UTAS, on the Editorial Board of the Journal of Ecological Management & Restoration, and a Research Fellow with the Tasmanian Land Conservancy, but is perhaps best known for her popular ABC Radio wildlife talkback program which has been running fortnightly since 1999.
Honorary Librarian - Juliet Beale