Global and local implications of 'species on the move' as a function of a changing climate
Distributions of the Earth's species are changing at unprecedented rates, largely driven by human-mediated climate change. Such changes are already altering the composition of ecological communities, but beyond conservation of natural values, how and why does this matter? Dr Pecl will highlight how species redistribution at regional to global scales is having major impacts on ecosystem functioning, human well-being and the dynamics of climate change itself, before providing detail of local changes in marine species distribution here in Tasmania. She will finish by describing how the public can get involved in research and assist in documenting and understanding these important changes.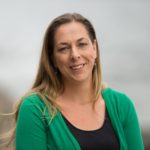 Associate Professor Gretta Pecl is a Tasmanian local, hailing from Glenorchy with convict stock origins. She started her undergraduate degree at UTAS before transferring to James Cook University for Honours and then to undertake a PhD. Most of her early worked focused on biology and ecology of squid, cuttlefish and octopus. Gretta's early field work at UTAS concentrated on the waters off the east coast of Tasmania – a region experiencing a high rate of ocean warming, almost four times the global average. She subsequently became very interested in the impacts of marine climate change, and in communicating this with the public, and this is where most of her work now lies. Gretta has been awarded several prestigious fellowships including a Fulbright Fellowship in Alaska where she worked on red king crab of 'World's Deadliest Catch' fame, and the Australian Research Council Future Fellowship she currently holds. She leads several large National and international projects, including the citizen science project Redmap Australia and The Global Marine Hotspots Network.