The President, Prof Matt King and all Council members warmly invite you, your family and friends to attend The Royal Society of Tasmania annual Christmas lecture and dinner.
This relaxed evening is one of the Society's most popular events and we hope you can attend.
Emeritus Prof John Simons will speak to the topic of 'Queen Victoria's Hippopotamus' at CSIRO's Battery Point auditorium at 6 pm on Tuesday 5 December 2017, followed by a buffet Christmas dinner.
Tickets are $45 per person and available through trybooking:
https://www.trybooking.com/SMSS
In 1850 the Zoological Society of London acquired a hippopotamus.  He was called Obaysch. He was the first hippopotamus to have been seen in Europe since Roman times and caused a sensation. This lecture will look at his life and at the various ways in which Victorians constructed the experience of seeing a hippopotamus in London.
Emeritus Professor John Simons lives in Taroona. He has worked in universities in the U.K., the USA and Australia and most recently was Deputy Vice Chancellor (Academic) at Macquarie University. He is the editor or author of some twenty academic books on a range of topics from medieval chivalric romance to the history of cricket via Andy Warhol. Over the last twenty years he has concentrated on the history of human-animal relationships and, especially, on exotic animals in Victorian England. He is also a published poet and has recently completed his first novel.
The menu for the dinner. A vegetarian meal is available on request, please contact royal.society@tmag.tas.gov.au: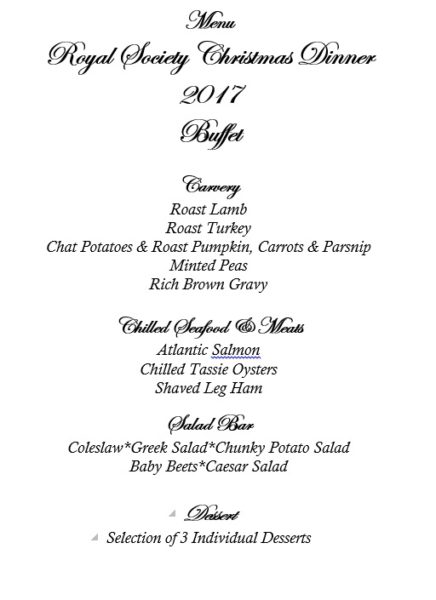 If you have any queries, please contact us at royal.society@tmag.tas.gov.au or Wednesdays from 9.30 to 1.30 on 03 6165 7014.