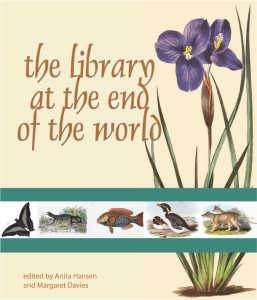 Coming soon!
The Library at the End of the World: Natural Science and its Illustrators will be available from bookshops from 17  October 2014. The Royal Society of Tasmania is offering you the chance to pre-purchase the volume at a discount. Both hard and soft cover versions will be available – the 1000 hardcover copies will be numbered and signed by the editors.
Science and Art come together in this lavishly-illustrated (over 200 high- quality pictures), 240 pp book which explores the natural history art to be found in The Royal Society of Tasmania's Rare Book Collection.
Order on-line from our Publications page.
Listen to the radio interview with Ryk Goddard, Dr Margaret Davies and Dr Anita Hansen by clicking on the link below.
https://soundcloud.com/936-abc-hobart/the-royal-society-library-is-a-treasure-trove
See the Mercury Newspaper liftout of the book by clicking the link below.
http://www.mercurynie.com.au/documents/RoyalSocietyMERCURY27Aug2014p25COPYRIGHT.pdf