2019 
MARCH 5  –  Scott Rankin: Tasmanian Australian of the year for 2018.
APRIL 2 – Dr Elizabeth Robinson: On educating young people in Tasmania today.
MAY 7 – Doctoral Award Winner Lectures: Feng Pan and Jack Mulder
JUNE 4 – Annie Reynolds: 

Aboriginal language revitalisation,

 celebrating the 2019 International Year of Indigenous languages
JULY 2 – Neil Spark: On Road Safety in Tasmania
AUGUST 6 – Marley Large: A glimpse into 175 years of the Royal Society of Tasmania's Minutes.
SEPTEMBER 3 – The Peter Smith Medal Lecture
OCTOBER 1 – Dr Anita Hansen: The first 175 years of the Royal Society of Tasmania.
NOVEMBER 5 – Utas Postgraduates Lecture Evening.
DECEMBER 3 –  John Williamson: Hobart's Antarctic connection.
Ψ
2018
5th March: Rosalie Martin – Transforming lives – the role of speech pathology in improving prisoners' lives and society's future
10th April: M.R. Banks medal winner Prof Michael Breadmore: Chemical answers now – safer food, water and environment through chemistry on a chip
1st May: Ms Sophie Muller Director of the Tasmanian Climate Change Office in the Department of Premier and Cabinet –Putting the change in climate change
5th June: Dr Andreas Klocker – Sistema Huautla, Cave diving for science in one of the world's most spectacular deep caves
3rd July: Joint Astronomy lecture
10th August: Margaret MacMillan, the noted Canadian historian of WW1, in Hobart as part of a short National speaking tour  
 4th September: A.Prof Arko Lucieer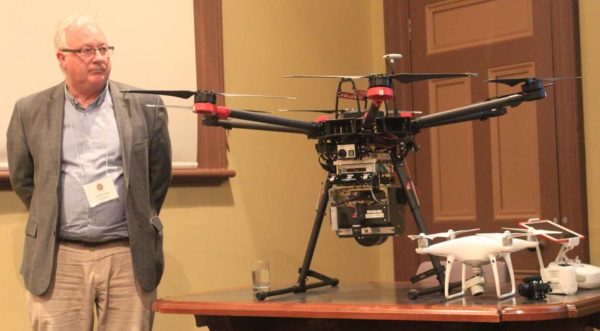 2nd October: Postgraduate night
14th November: Susannah Fullerton OAM FRS (N), President of the Jane Austen Society – And so to bed … The Diary of Samuel Pepys
4th December: UTAS Vice Chancellor Prof. Rufus Black for Christmas Lecture and dinner.
Ψ
2017
7th March – Kathryn Medlock, TMAG  – The history of the Thylacine in Tasmania and the Royal Society
4th April – Professor Hamish Maxwell-Stuart, University of Tasmania – Height, Health and History
2nd May – R.M Johnston Memorial Lecture, David Green – 'Tectonic plates' and 'seismic shifts' have crept into common language – what are they and why do they occur?
6th June – Professor Barry Brook, ARC Laureate Fellow, University of Tasmania – The Future of Humanity
4th July – Dr Meredith Nash – What is it like to be a woman in STEMM? Gender bias, sexual harassment, and the myth of meritocracy
1st August – Dr Henry Reynolds – From Tasmanian patriotism to Australian nationalism: A little known story in three acts
5th September – Dr Tas van Ommen – Ice cores and climate: looking back over a million years of earth history
3rd October – Prof Maggie Walters – Looking Back to Move Forward: The Royal Society and Tasmanian Aborigines
7th November – Assoc Prof Tracey Dickson – Cortical Inhibitory Dysfunction in Motor Neuron Disease: How can we get the balance back
14th November – Saul Eslake – @Government House – Australia's ongoing quest for ever-greater 'security' – is it rational and
has it made us safer?
5th December –Dr John Simons – Queen Victoria's Hippopotamus