Congratulations to the Royal Society of Tasmania's Honorary Editor, Council member, and renowned Wildlife Scientist and Conservationist Dr Sally Bryant, on being made a Member of the Order of Australia in the 2023 Australia Day Awards, for "significant service to wildlife and land conservation in Tasmania".
Sally has worked in many of Australia and New Zealand's wildest places focusing on threatened fauna mainly birds. Her conservation assessments of Tasmania's shorebirds, eastern ground parrot and forty-spotted pardalote have been foundational for three decades. In Tasmania she has surveyed many of the remote offshore islands including Macquarie Island and was instrumental in establishing the Hamish Saunders Memorial Island Survey Program. At the Tasmanian Land Conservancy Sally was instrumental in protecting 11 permanent nature reserves and establishing long term monitoring across 15,000 hectares. Two reserves had World Heritage Status and one reserve in the heart of Kingborough protected a critical colony of forty-spotted pardalotes.
In 1991, Sally authored the Forty-Spotted Pardalote National Recovery Plan for the Tasmanian Department of Primary Industries and Water, which aimed to secure major colonies of the forty-spotted pardalote on private land, maintain or increase the amount of potential habitat available to the species and maintain or increase the populations at or above those recorded in 1991.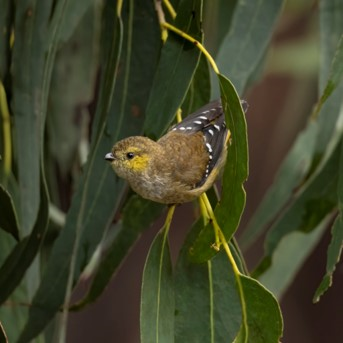 Sally has authored and co-authored numerous books, chapters, journal papers, technical reports and popular articles on conservation issues, including those for the Royal Society of Tasmania. She is an Adjunct Lecturer at UTas, on the Editorial Board of the Journal of Ecological Management & Restoration, and has recently lectured for the Society of the plight of the Forty-Spotted Pardalote.
Sally is probably best known for her popular ABC Radio wildlife talkback programs, which have been running since 1999.