The Royal Society of Tasmania is celebrating its 175th Anniversary year, starting in October 2018. As part of the celebrations, two books are being published. The first, Mapping Van Diemen's Land and the Great Beyond, has been published and is now available.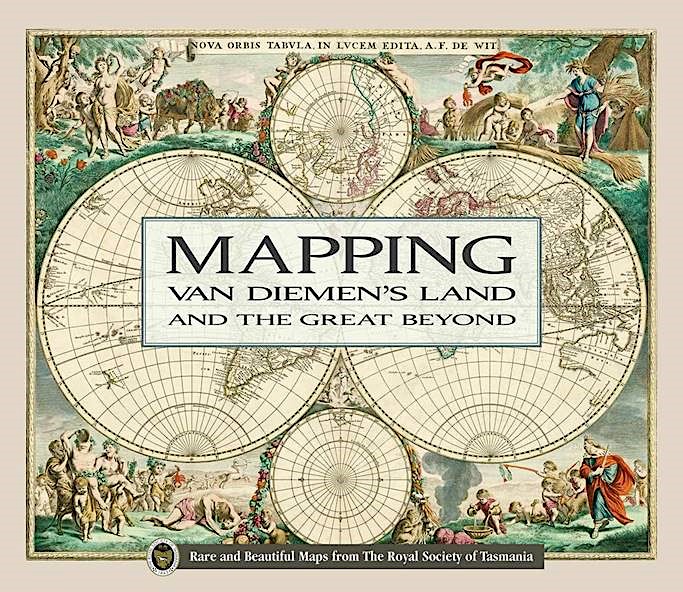 This exquisite volume, edited by Lynn Davies, Margaret Davies and Warren Boyles, contains over 100 high resolution images of rare and beautiful maps from the Society's collection with text from such authoritative contributors as Matt King, Michael Giudici, John Williamson, Aidan Davison and Andrew Harwood, Peter Mercer, James Parker, Peter Marmion and Tony Fenton, and John VanderNiet.
The brief for the authors in the conception of this volume was to view the Society's collection of maps and consider them within their historical, scientific, social and cultural contexts. This naturally led to the development of research inquiries and questions such as: how important were these maps when created? How important are they today in terms of knowledge and or specific systems such as geological or exploration maps? How historically important are these maps? What impact would these maps have had when they appeared? What did the compilers get right or wrong, and what did they not see or was not yet discovered? And, is there any general cultural context or social comment that arises as a result of these maps? The result of the exploration of these questions is a publication worthy of our 175th anniversary.

The official launch took place on Thursday, 19 July 2018, in the foyer of the Stanley Burbury Building, University of Tasmania, Sandy Bay campus. The Welcome to Country was conducted by Dr. Greg Lehmann, and then the book was officially launched by Dr. Tony Sprent AM from the University of Tasmania. A number of the authors were in attendance and giving away their autographs. And some good Tasmanian wine was sloshed.
A second launch was held in Launceston on the 22ndof July at the Queen Victoria Museum and Art Gallery in Inveresk, Launceston.
The book has been published in both soft and hard cover format, and can be purchased online through our website here: Mapping Van Diemen's Land