Stories from the Royal Society of Tasmania Art Collection
---
5. William Arthur Wiggins
Article prepared by the RST Honorary Curator, Dr Anita Hansen, for the June 2022 RST Newsletter.
William Arthur Wiggins (19 May 1881–1 January 1947)
There are two artworks in the RST Art Collection that are jointly owned by the Royal Society of Tasmania and the Tasmanian Museum and Art Gallery. This one, Old Mill at Sorell, is by William Arthur Wiggins. It was agreed that this artwork should be under joint ownership as both the RST and TMAG have records of purchasing it. According to RST records it was purchased in 1957 for £3.3.0. However, TMAG has an equally valid record.
The other jointly owned artwork is by Florence Moore (nee Rodway), but I'll save that for another day.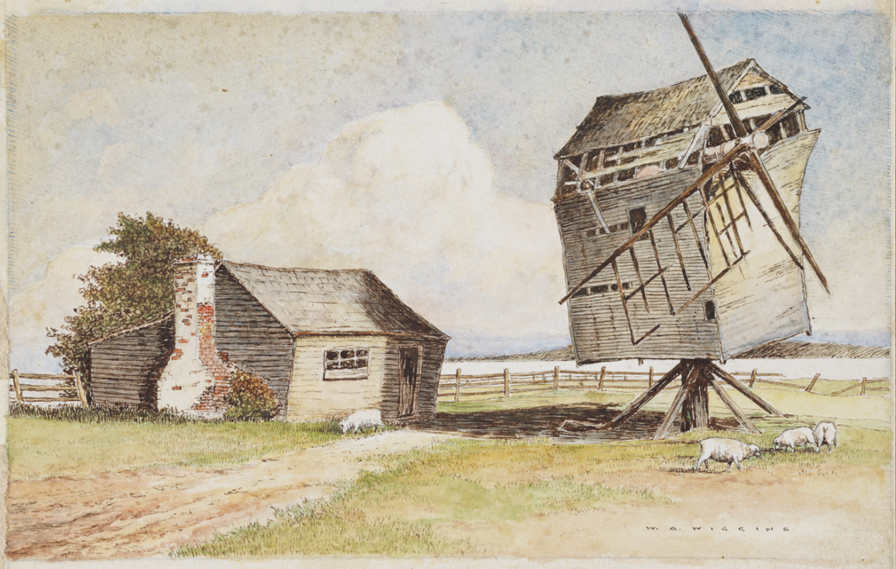 There is very little to be found in the records about the Tasmanian-born artist William Arthur Wiggins. He was born at Glebe, Hobart on 19 May 1881. He died at George Town on 1 January 1947.
He is known to have worked in New South Wales at some point. The State Library of NSW has two of his etchings in their collection; Old Government House dairy, Parramatta, N.S.W., and Wesley College University of Sydney, drawn sometime after 1917.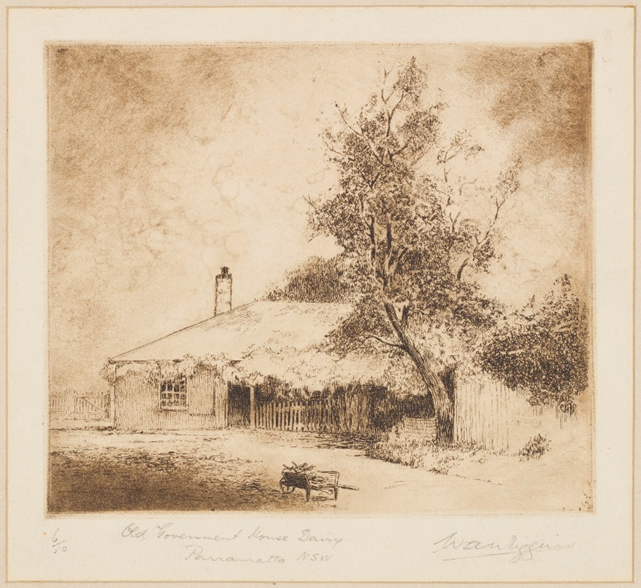 The records I have found relating to his occupation have cited this variously as artist, commercial artist and public servant.
There is no record of when he left Tasmania, nor of when he returned.
Old Mill at Sorell
The tiny – 12.2×19.8 cm – watercolour shows the work of an accomplished artist. It is not surprising to learn he was also an etcher – the hatching on the work is reminiscent of marks made when etching, as can be seen on the dairy etching above. However no edge left by a plate is evident on the Old Mill at Sorell.
When I first saw this watercolour of a tumbled down windmill in a sheep paddock I thought it must be of a British scene, painted by a British artist. It was not until I started researching the artist that I found it was surprisingly painted in Tasmania by a Tasmanian-born artist.
This intrigued me – I hadn't seen mills like this in Tasmania. It looks so ungainly, like some alien creature.
I have found an article by the Sorell Historical Society – windmill | Sorell: 200 years on (edublogs.org) – with photographs of this windmill. They show the windmill in a derelict state, though not quite as bad as in Wiggins's painting.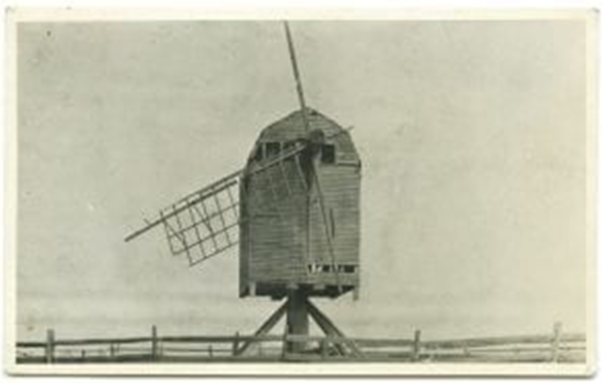 The mill was built by English-born Robert Nash, the son of a millwright. At the age of nineteen he was transported to New South Wales for theft. He was eventually granted a pardon and moved to Van Diemen's Land in 1808. There he built his first mill at the New Town Rivulet. Later he received a grant of 200 acres near Pitt Water, where he built a mill at his own expense in 1815. By 1817 he was supplying the Hobart Town Commissariat as one of its largest contractors.
Last Word
If anyone has more information on William Arthur Wiggins, I'd love to find out more about this artist and his work.
---
The Royal Society of Tasmania's Art Collection is housed at the Tasmanian Museum and Art Gallery, Hobart.
Any queries, please contact the Honorary Curator, Dr Anita Hansen: anita.hansen@utas.edu.au