A Book Review for The Royal Society of Tasmania by John Williamson
Patrick G. Quilty, 2021 The Dawning of Antarctica: Through Exploration to Occupation, Hobart: Dr Eva Meidl, pp. 474
This splendid, comprehensive, compendium of every aspect of Antarctic history is a very welcome addition for all scholars of the southern continent. Professor Patrick Quilty AM was Chief Scientist for the Australian Antarctic Division for 18 years and devoted much of his later years to writing this vast and authoritative book on the human history of the Antarctic continent.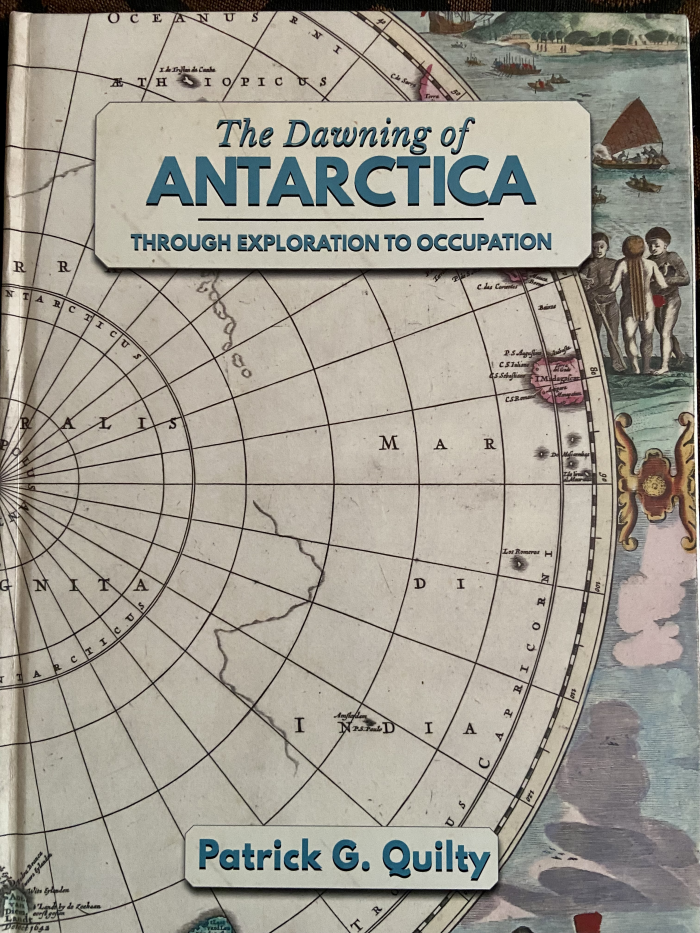 Quilty states that his aim for the book is to "summarise … the human history of the exploration of the Antarctic prior to the International Geophysical Year (IGY) of 1957—1958", and indeed he is able to accomplish this in minute, complex detail. He explains for us the early perceptions of what and where Antarctica was. He examines the role of James Cook through a thorough and authoritative assessment of his second voyage and the circumnavigation of Antarctica. The author is at pains to explain the various claims and counter claims of early Antarctic explorers and his in-depth analysis of logs and journals is impressive as he places those claims as accurately as is possible onto modern maps. For example, the way Quilty analyses von Bellingshausen's interpretations of the coast, and compares them with a modern map of the South Sandwich Islands, clarifies, for modern readers and researchers, how early explorers charted the coastline they saw – or thought they saw – and to which parts of Antarctica these actually refer. This requires very good understanding of the original logs and journals of 19th century explorers. Sir Guy Green, in his fine Foreword to this book, notes how thoroughly and successfully Professor Quilty locates, interprets and utilises these primary sources.
Quilty deals in a balanced way with a wide range of issues: the quality and immensity of Thaddeus von Bellingshausen's voyage in the Southern Ocean; the "Hollow Earth" theories of the early 19th century and the realities of islands and land that were thought (incorrectly) to exist. His writing on the three major national expeditions during the middle of the 19th century (US, French and British), is clear about the challenges they faced and the success they nevertheless achieved. Quilty's maps of the journeys of these three significant expeditions, are immensely satisfying as they are clear, accurate and they point out locational problem areas and suggest solutions to geographical issues that have arisen. This is analytical history at its best and it is a reflection of Quilty's vast store of knowledge gleaned over many decades of research.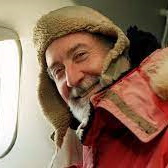 The organisation of this book signposts themes with appropriate headings, with images and maps set in the text to which they refer. His decision to divide the so-called "heroic era" into sub-sections is well advised. This allows Quilty to provide correct weighting not only to the much-referenced expeditions of Scott, Shackleton, Amundsen and Mawson, but also to those whose journeys are often ignored: Charcot, Bruce, Nordenskjöld and Wilkins. The early 20th century years of exploration are the key moments of this volume. Told with verve and rigour, these voyages become even more fascinating as Quilty examines the complexity of the individuals involved as well as providing an assessment of their scientific and geographical achievements. While managing to avoid controversy over issues such as Scott's management in a crisis or Amundsen's actions in going south instead of to the north, Quilty nonetheless makes his views clear and is not afraid of examining the behaviour and leadership of these explorers. His summation of the differing styles of leadership (pp. 234–235) is masterly. There are, throughout the book, excellent biographies of principal characters such as Scott, Shackleton, Wilkins, Byrd et al. and these are generous and fair but show that the author is not blind to the flaws in each personality. These chapters are supported by accurate maps, diagrams and reproductions of paintings which add to the intellectual complexity of this substantial monograph.
The concluding chapters, which discuss the years of World War II and the decades leading up to, and including, the 1957–1958 International Geophysical Year (IGY), are particularly thoughtful, because this is the era with which Quilty had the closest association. He refines our focus on the major scientific drivers of change of that period examining the great importance of the IGY and this provides a strong basis for his general discussion of internationally co-ordinated research in Antarctica. Of course, Professor Quilty's own research endeavours on the southern continent provide substance to his analysis. It would be hasty to say that it is a pity the book does not develop the story past 1958; but that is merely disappointment on our part that we do not have Professor Quilty's version of recent events.
Twelve years in the making, this book has been a labour of love, necessity and great scholarship by Professor Quilty. His passion for Antarctic history is obvious. It is also appropriate that we offer our sincere thanks to those who so carefully edited, after the author's death, his vast array of text and maps – Margaret Davies, June Pongratz and Eva Meidl. Professor Quilty has left us a fitting legacy and, as Hobart continues to develop its reputation as a major global hub for Antarctic Science, this volume will take its place as one of the most important set of readings on human activity on the ice. Professor Quilty was a world class scientist, and the publication of this book will confirm, in addition, his reputation as an historian of significance.
John Williamson
Hobart, 2022