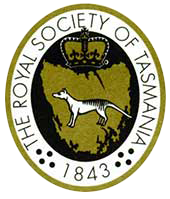 THE ROYAL SOCIETY OF TASMANIA
Memo to Members
Thursday 2 July 2020
Dear Members,
During the COVID-19 pandemic, the office bearers and Council members have worked very hard to keep the Society thriving. We are offering a vibrant program of online lectures via Zoom webinar, and recordings of these can be viewed on our newly established YouTube channel here. We have an exciting project in the pipeline for National Science Week: RST Council member Niamh Chapman is heading up a team to record a series of podcasts for our YouTube channel. This is a great way to share fascinating science with the community, and another first for our Society.
Restrictions on room occupancy mean we are not yet able to hold in-person lectures in our lecture room, but the RST office is open on Wednesday mornings for phone or in-person enquiries and sales of merchandise.
A highlight of the RST year is the launch of the annual calendar, and the 2021 edition is particularly beautiful. We extend grateful thanks to Dr Margaret Davies OAM for her work in compiling this. The images of artworks by Simpkinson de Wesselow come from paintings held in the Royal Society of Tasmania collection on loan to the Tasmanian Museum and Art Gallery. The calendar features scenes of northern Tasmania in honour of the centenary of the Northern Branch of our Society, which will be celebrated next year.
We are continuing to do our utmost to fulfil the Society's mission of 'advancing knowledge.' Papers are now being sought for our Papers and Proceedings – please consider contributing a paper, and encouraging your friends and colleagues to do likewise. Nominations are now open for the Peter Smith Medal – do you know an outstanding early career researcher you could nominate for this award? Bursaries to secondary students continue to be offered, and the Doctoral Awards will be advertised a little later in the year.
I extend very warm thanks to all the members who have supported our Society by renewing their membership during the pandemic, and we have been extremely pleased to welcome new members each month.
Please email me if you have any queries: royal.society@tmag.tas.gov.au
Yours sincerely,
Mary Koolhof
President
The Royal Society of Tasmania