Tasmania – 2018 Launceston Lecture Series
Dr Patsy Cameron AO
Voices from the Other Side of
the Colonial Sea Frontier
in the Meeting Room, QVMAG at Inveresk I
1.30 pm Sunday 23rd September 2018
Admission: $6 General Public,
$4 QVMAG Friends, members of Launceston Historical Society and Students
Free for members of The Royal Society of Tasmania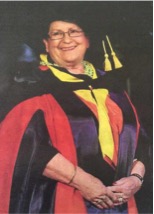 Patsy Cameron grew up on Flinders Island and traces her Tasmanian Aboriginal heritage through her mother's line to the northeast Coastal Plains Nation and the east coast Oyster Bay Nation. For over forty years Patsy has been a passionate champion for Aboriginal education and the promotion of cultural heritage and traditional practice.  Patsy has a Bachelor of Arts with major studies in Archaeologyand Geography and a Master of Arts in Aboriginal History. Her MA thesis Grease and Ochre: The blending of two cultures at the colonial sea frontierwas published by Fuller's Bookshop in 2011. She was inducted into the Tasmanian Women's Honour Roll in 2006 and received a prestigious honorary Doctor of Letters from the University of Tasmania in August 2016 for her outstanding contribution to the Tasmanian community. In June 2017 Patsy was awarded an Officer of the Order of Australia (AO) on the Queen's birthday honour list.
Most accounts of early contact relations between the Straitsmen and their Aboriginal wives, with whom they made homes on the small islands of Bass Strait during the first decades of the 1800s, are permeated with characterisations of slavery and savagery. Much of the colonial record was written from afar, and many who did observe the sea frontier at close quarters had reasons to present biased viewpoints. This presentation, at stark counterpoint to those white masculine colonial narratives that pervade understandings of Tasmanian Aboriginal history, allows the voices of Islanders from the other side of the sea frontier to finally be heard.

GENEROUSLY SUPPORTS THE PRESENTATION OF THIS LECTURE