The Royal Society of Tasmania invites you to the lectures by the two winners of the 2023 Peter Smith Medal, Dr Rachel Climie and Dr Vipul Gupta, at 3 pm, on Sunday, 6 August 2023. The lectures will be held at the Geology Lecture Theatre (Geo 211.LT), Earth Sciences – Geography, Planning and Special Sciences Building, University of Tasmania, Sandy Bay (entrance off Earl Street, Hobart).
Please register to attend using this Eventbrite link. Registrations close at 3 pm on Saturday 5 August. The lecture will be recorded but not live-streamed.
Admission is free for members of the Royal Society of Tasmania. Non-members are welcome, and donations are appreciated through our website or at the door. Suggested donation is $6; $4 for students and friends of TMAG and QVMAG.
---
Cardiovascular health in early life
Dr Rachel Climie
Despite major improvements in risk factor control and clinical care over the last decades, cardiovascular disease (CVD) remains the leading cause of death worldwide. Although overt CVD may not appear until later in life, the risk factors for CVD begin to develop in childhood and are associated with adverse outcomes in adulthood. Importantly, these risk factors are increasing in prevalence in Australian children, particularly in those who come from areas of social disadvantage.
Rachel's work aims to identify the determinants of cardiovascular health in childhood and their association with future health; establish tools to detect early CVD risk in young people; and develop effective and acceptable strategies to improve CVH of children who come from social disadvantage, with a particular focus on regions of Tasmania.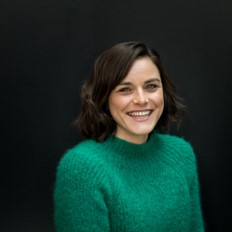 Dr Rachel Climie is Research Fellow at the UTAS Menzies Institute for Medical Research, an Exercise Physiologist and advocate for public health. After completing her PhD at UTAS in 2016, Rachel was awarded two internationally competitive fellowships for postdoctoral training in France. Rachel was then awarded a Heart Foundation Postdoctoral Research Fellowship to return to Australia and the Heart Foundation's Paul Korner Award for most innovative postdoctoral fellowship application. In 2022, Rachel was awarded an NHMRC Emerging Leader Fellowship (<10% success rate) and Heart Foundation Future Leader Fellowship (<15% success rate). Rachel has received over $3.9M ($1.8M CIA) in competitive national and international grant funding. She has published >70 peer-reviewed (39 first/senior author) papers. Rachel has received 7 international and 6 national awards in recognition for her work including Victorian Young Tall Poppy Award for excellence in research and science communication and High Blood Pressure Research Council of Australia Young Investigator Award for best scientific presentation by a young researcher.
---
Transforming 3D Printing from Rapid Prototyping to Advanced Manufacturing
Dr Vipul Gupta
Manufacturing advancements in every sector, from health, energy, and aerospace to defence, demand modern additive manufacturing techniques like 3D printing. However, these methods have been predominantly limited to rapid prototyping because they are mostly restricted to plastic manufacturing, offer a low resolution, and fail to produce multi-material structures. Hence, our research is focused on developing new 3D printing materials and methods to overcome these three limitations.
Vipul's recent work has focused on developing new materials and methods to 3D print one of the most attractive and hard-to-manufacture classes of materials, glass and ceramics, while offering nanometre scale feature resolution and multi-material print capabilities. The developed inks and printers have been the subject of six patent applications in the last two years and are now realising holy grail products, such as wearable universal sensors, high-efficiency hydrogen fuel cells, comprehensive air and water filters, and environmental pollution remediation systems, to effect socio-economic progress.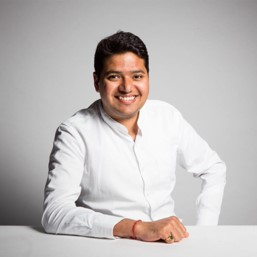 Dr Gupta graduated from the UTAS School of Natural Sciences (Chemistry Discipline) in September 2018. During his PhD, he has represented Tasmania at different national and international platforms, such as Lindau Noble Laureate Meeting and Australian Socio-economic discussion forums. Since graduating, he has contributed towards securing research funding of ca. 6.5 million dollars through different ARC grants, including a highly prestigious ARC Discovery Early Career Research Award (DECRA) Fellowship. He is co-author of 30 peer-reviewed publications from his graduate and four years of post-graduate research. The impact and significance of his research have earned him 18 awards and honours an invitation to the Science at the Shine Dome, and Science and Industry Endowment Fund – Australian Academy of Science (SIEF-AAS) Fellowship to the Lindau Nobel Laureates Meeting.