The Royal Society of Tasmania invites you to a public lecture by Trevor Lambkin, David Maynard and Simon Fearn.
Where: On your computer via Zoom
When: 1.30 pm Sunday 25th October 2020
To participate in this webinar, you must register in advance; click here to do that. After registering, you will receive a confirmation email containing information about joining the webinar.
To download a flyer for printing, click here.
A collection of around 12000 butterflies compiled by Trevor Lambkin and Ian Knight over the last 50 years has most generously been donated to QVMAG. Including many hundreds of species, some extremely rare and some that are now extinct, it is an important part of Australia's national research infrastructure.
Hear from one of the donors, lepidopterist Trevor Lambkin about building the collection, and from QVMAG staff David Maynard (Senior Curator of Natural Sciences) and Simon Fearn (Museum Collections Officer) on its research potential and housing such a large collection.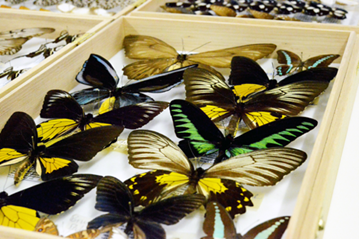 ---
Generously supported by